Rapid cloning of antigen-specific T-cell receptors by leveraging the cis activation of T cells
Research Content and Results
The paper "Rapid cloning of antigen-specific T-cell receptors by leveraging the cis activation of T cells" has been published on line in Nature Biomedical Engineering from Department of Immunology, Faculty of Medicine, Academic Assembly※1. The study shows two points:
It is commonly understood that T cells are activated via trans interactions between antigen-specific T-cell receptors (TCRs) on T cells and antigenic peptides presented on major histocompatibility complex (MHC) molecules on antigen-presenting cells (Fig. 1, left). By analyzing a large number of T cells at the single-cell level on a microwell array※2, we show that T-cell activation can occur via cis interactions (where TCRs on the T cell interact with the antigenic peptides presented on MHC class-I molecules on the same T cell) (Fig. 1, right).
We apply the cis activation to detect antigen-specific T cells and clone their TCRs within 4 days (Fig. 2). We call the detection-and cloning system T-ISAAC. We used T-ISAAC to clone tumour-antigen-specific TCRs from peripheral blood mononuclear cells of healthy donors. When compared with the TCR that has been used for clinical trial, our TCR obtained by T-ISAAC showed much higher cytotoxicity (Fig. 3).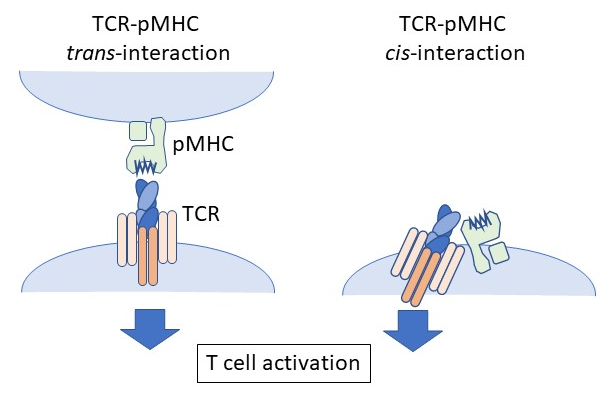 Fig 1.

Fig 2.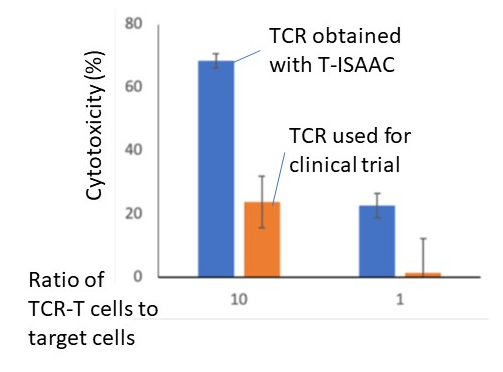 Fig 3. 
TCR cloning by leveraging the cis activation of T cells may facilitate the development of TCR-engineered T cells for cancer therapy.
Footnote
Microwell array chip: Previously we developed microwell array chips whose microwell can capture only a single lymphocyte. When single T cell was deposited in each microwell (Fig. 4, upper) and antigenic peptides were added to the T cells, the peptides bound to MHC on the T cells (Fig. 4, bottom). T cells were then activated in antigenic peptide-specific manner, indicating that TCR and pMHC was interacted on the same T cells.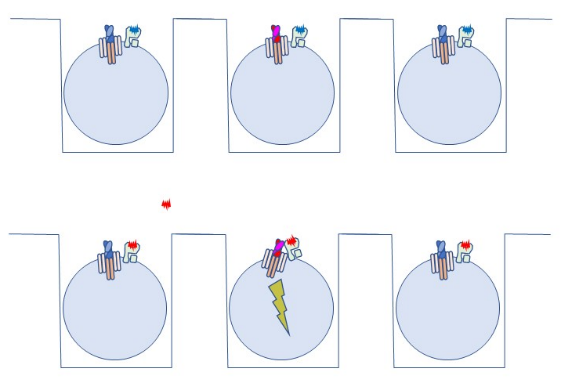 Fig 4. 
Original article information
Title
Rapid cloning of antigen-specific T-cell receptors by leveraging the cis activation of T cells.
Authors
 Kobayashi E, Jin A, Hamana H, Shitaoka K, Tajiri K, Kusano S, Yokoyama S, Ozawa T, Obata T, Muraguchi A, Kishi H.
Journal
Nature Biomedical Engineering, 2022,