University of Toyama organized DSSAT International Training Programme 2023 in Thailand.
The University of Toyama jointly organized an international training workshop on Crop Simulation Modeling and Effects of Climate Risks on Agricultural Production Systems in Southeast Asia with the University of Florida, the DSSAT foundation and the Asia Pacific Network for Global Change Research (APN-GCR). This training programme aims to provide participants with a better understanding of simulation models in predicting relationships of agricultural resources, i.e., water and nitrogen, under various weather and climate conditions, on crop phenology, growth, and yield.
To kick off the training workshop, Prof. Geetha Mohan provided the details of the project and the expected outcomes from this training and the overall project.
An intensive six-day DSSAT training workshop was held on January 9-14th, 2023, at the Century Park Hotel, Bangkok. Twenty-one high-quality participants from Cambodia (7), Indonesia (7), Lao PDR (6), and Thailand (1) were selected to attend this training, including seven female and fourteen male participants.
The attended participants include academicians, young researchers, students, and extension officers working on agriculture, plant breeding, agro-forestry and hydrological issues from Southeast Asian countries.
The DSSAT workshop in Bangkok consisted of training and interactions with instructors.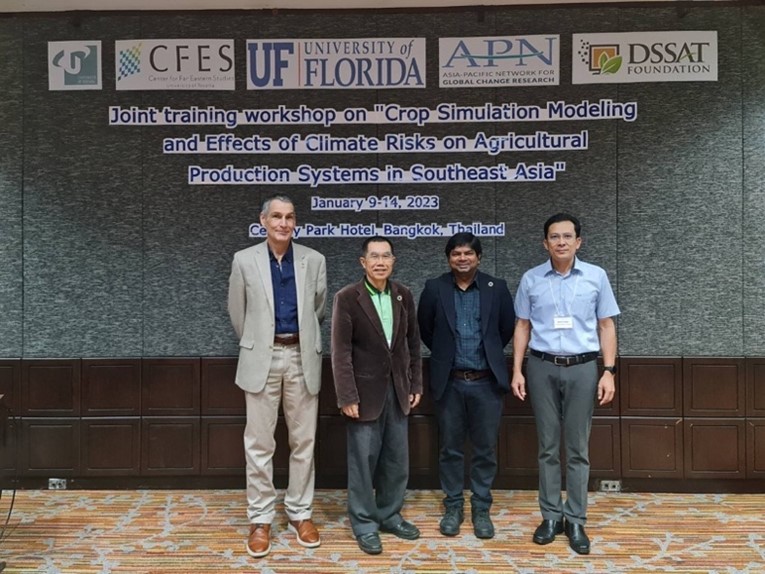 Project Team: from left to right, Prof Hoogenboom, University of Florida, USA; Prof. Emeritus Dr. Attachai Jintrawet, Chiang Mai University, Thailand; Prof. Geetha Mohan, University of Toyama, Japan; Dr. Jakarat Anothai, Prince of Songkla University, Thailand.
The training modules comprised lectures on introducing the DSSAT software 4.8 version, a minimum dataset with experimental data: genetic coefficients and crop management, soil and weather data, computer exercises on potential production, water-limited production, nutrient-limited production, creating crop measurement files and model evaluation, sensitivity analysis tools and seasonal analysis.
This DSSAT Training Program organized in Bangkok is a part of the two-year project entitled, "Capacity Development Training Workshop on Crop Simulation Modeling and Effects of Climate Risks on Agriculture Production Systems in Southeast Asia", funded by the Asia-Pacific Network for Global Change Research .