The SARS-CoV-2 Omicron BA.1 spike G446S mutation potentiates antiviral T cell recognition
Points
We identified two immunodominant epitopes (NF9/A24 and QI9/A24) presented by HLA-A*24:02 in BNT162b2 or mRNA-1273 vaccinated donors.
We found that NF9/A24 specific CD8+ T cells strongly suppress Omicron BA.1 replication.
We demonstrated that the G446S mutation in the Omicron BA.1 variant affects antigen processing/presentation and potentiates antiviral activity by vaccine-induced T cells.
Backgrounds
The SARS-CoV-2 Omicron variant (BA.1; B.1.1.529.1), first identified in November 2021, is a novel variant that has rapidly spread around the globe.
BA.1 has >30 mutations in the spike protein that contribute to reduced sensitivity to vaccine-induced antibody neutralization. In contrast, vaccine induced SARS-CoV-2-specific T cells retain their reactivity to a number of different variants. However, the characteristics of vaccine-induced T cells cross-reactive for the Omicron virus are only poorly understood.
Results
We showed that CD8+ T cells specific for NF9/A24 (S448-456: NYNYLYRLF) and QI9/A24 (S1208-1216: QYIKWPWYI) are predominantly induced in vaccinated donors with HLA-A*24:02 that is one of the most widely distributed HLA-I alleles globally (predominantly in Est Asia). We newly established the system to evaluate antiviral activity of T cells against SARS-CoV-2 infected cells by monitoring suppression of viral replication by T cells in vitro (Figure 1) and demonstrated that NF9/A24-specific T cells strongly suppressed replication of Omicron BA.1 variant to a greater extent than the prototype or Omicron BA.2 (Figure 2). No suppression was observed against the Delta variant, presumably due to the T-cell escape mutation L452R in the Delta spike protein1-2. Mutagenesis analyses revealed that a G446S mutation, located just outside the N-terminus of the cognate epitope, augmented T cell recognition of Omicron BA.1 variant (Figure 3).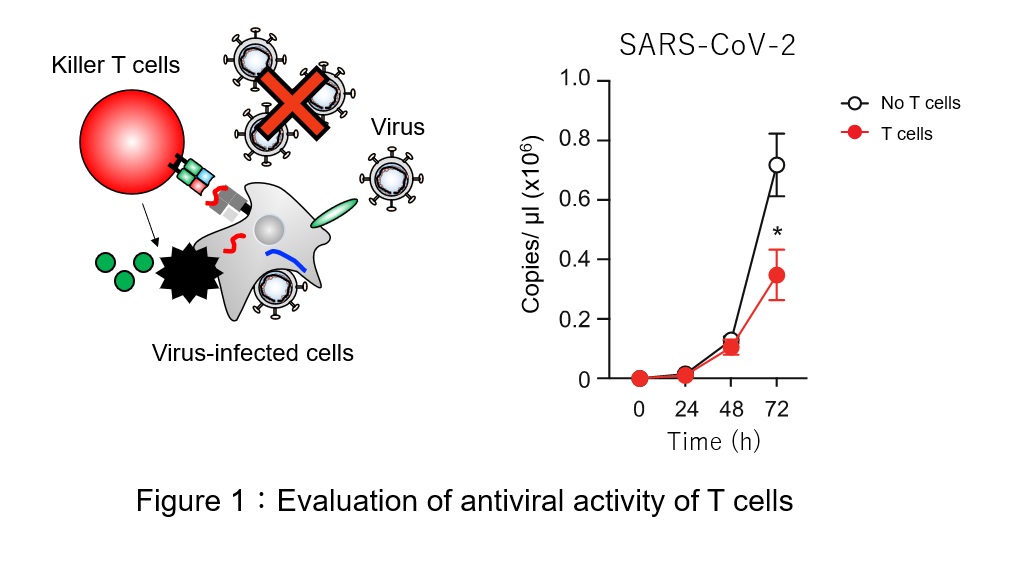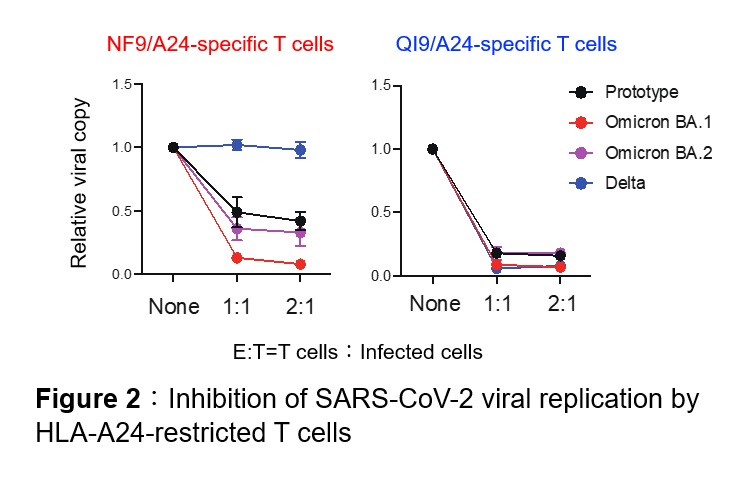 Future direction
Although the Omicron variant of the SARS-CoV-2 virus shows resistance to neutralizing antibody, we here demonstrated that SARS-CoV-2 spike mutation enhances antiviral activity of T cells against SARS-CoV-2-infected cells. These findings provide better insights for the rational design of vaccine antigens to induce efficient cellular immunity via antigen processing/presentation.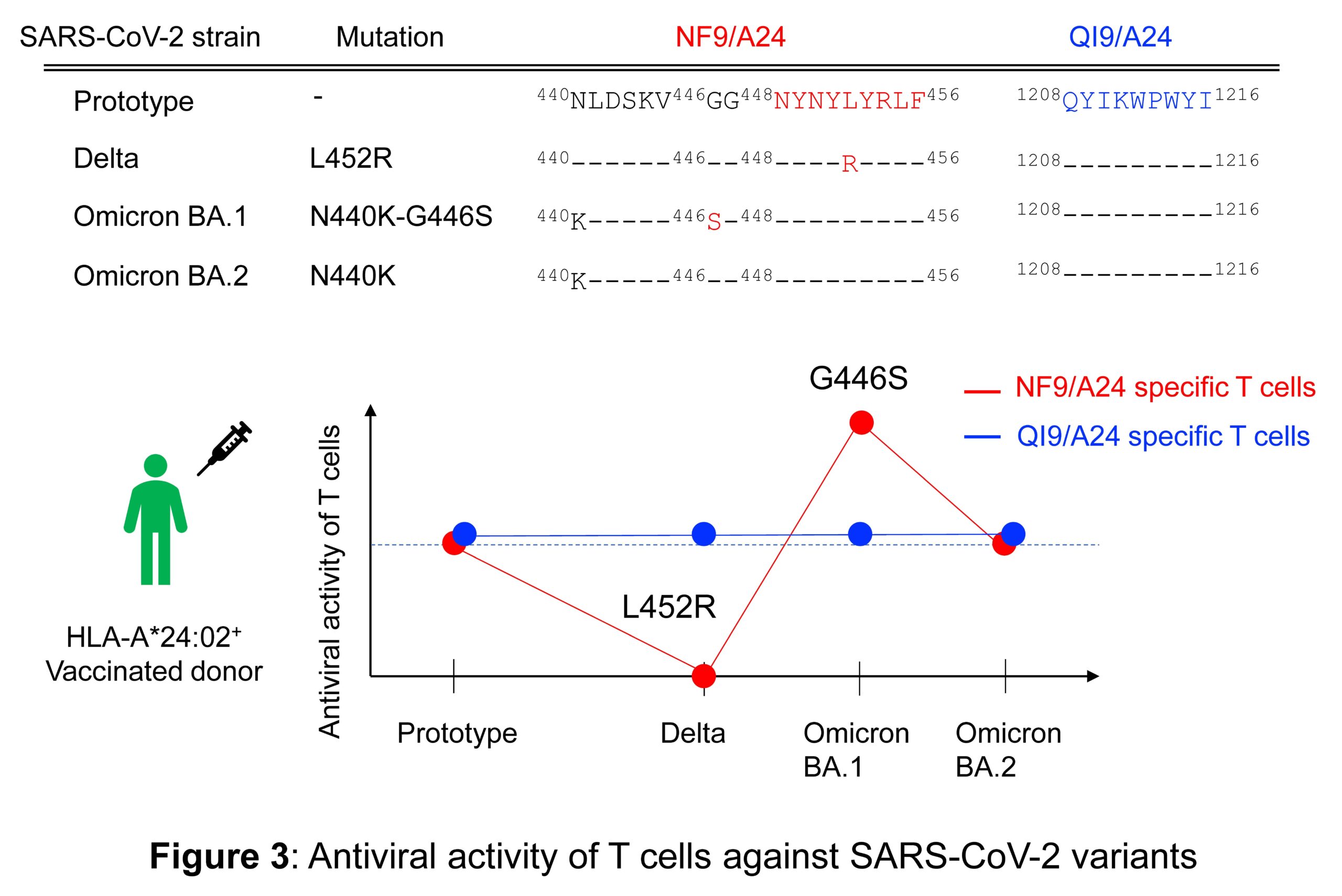 Reference
1. Kimura I et al. The SARS-CoV-2 Lambda variant exhibits enhanced infectivity and immune resistance. Cell Reports, 38(2):110218, 2022.
2. Motozono C et al. SARS-CoV-2 spike L452R variant evades cellular immunity and increases infectivity. Cell Host & Microbe 29(7):1124-1136.e11., 2021.
Title
The SARS-CoV-2 Omicron BA.1 spike G446S mutation potentiates antiviral T cell recognition
Authors
Chihiro Motozono1, 2*, Mako Toyoda1, Toong Seng Tan1, Hiroshi Hamana3, Yoshihiko Goto1, 4, Yoshiki Aritsu5, Yusuke Miyashita6, 7, Hiroyuki Oshiumi6, Kimitoshi Nakamura7, Seiji Okada8, Keiko Udaka9, Mizuki Kitamatsu5, Hiroyuki Kishi3, Takamasa Ueno1*
1 Division of Infection and immunity, Joint Research Center for Human Retrovirus infection, Kumamoto University, Kumamoto 8600811, Japan
2 Laboratory of Molecular Immunology, Immunology Frontier Research Center, Osaka University, Suita 5650871, Japan
3 Department of Immunology, Faculty of Medicine, Academic Assembly, University of Toyama, Toyama 9300194, Japan
4 Department of Respiratory Medicine, Faculty of Life Sciences, Kumamoto University, Kumamoto 8608556, Japan
5 Department of Applied Chemistry, Faculty of Science and Engineering, Kindai University, Osaka 577-8502, Japan
6 Department of Immunology, Graduate School of Medical Sciences, Faculty of Life Sciences, Kumamoto University, Kumamoto 8608556, Japan
7 Department of Pediatrics, Graduate School of Medical Sciences, Kumamoto University, Kumamoto 8608556, Japan
8 Division of Hematopoiesis, Joint Research Center for Human Retrovirus Infection, Kumamoto University, Kumamoto 8600811, Japan
9 Department of Immunology, Kochi University, Kochi 783-8505, Japan
Nature Communications
doi:10.1038/s41467-022-33068-4
URL:https://www.nature.com/articles/s41467-022-33068-4