A Message from the President of the University of Toyama
Toward an attractive and "OMOSHIROI" university!
President of University of Toyama
Saito Shigeru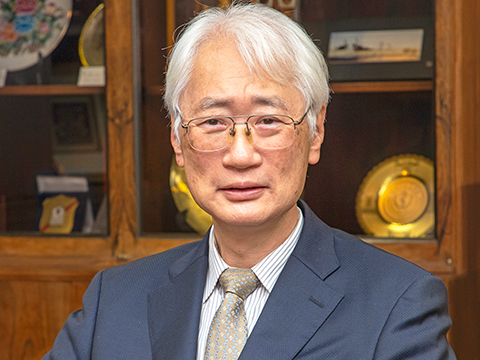 I am Saito Shigeru, the new president of the University of Toyama from April, 2019. I will make the university into an attractive and "OMOSHIROI (≒unique and exciting)" university, building on the measures taken by the former president, Endo Shunro.
It has been 14 years since the three national universities in Toyama were integrated into this university. Last year, the "School of Sustainable Design" was newly established, adding a new field with a focus on creating the future society and cities through a perspective of design thinking. The university currently consists of nine Schools (Humanities, Human Development, Economics, Science, Engineering, Medicine, Pharmacy and Pharmaceutical Sciences, Art and Design, Sustainable Design), and a total of eleven departments with inclusion of the University Hospital and the Institute of Natural Medicine. We are proud to be one of the leading universities in Japan with our greatest strength being the large number of capable individuals we have.
In our society, due to the spreading of information networks, a new super-smart society "Society 5.0" is close to being formed. Through this change, the study of new interdisciplinary fields is required.
To adapt to these changing social needs, I want to develop individuals who can be active in this upcoming Society 5.0 era by strengthening our interprofessional network, expanding our social network more than ever, and further enhancing our international network.
My goal is to make the university an attractive and "OMOSHIROI" university where the over 9,000 students and 2,300 faculty members will be able to go out into the community more, create new fields of study to develop our society, and promote world-class advanced research. Furthermore, for people in the areas of politics, business, industry, and education, as well as the local community, I aspire to make the university more friendly and reliable, as a place for promoting creative and innovative individuals, and as a base for regional revitalization with intellects at the center of the community. With knowledge born from Toyama, I aim to change not only our local area, but also our country and the world.
I would like to ask all involved people both inside and outside of the university for their further support.