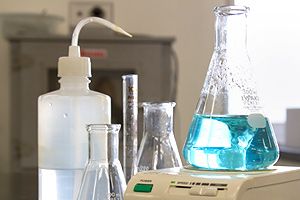 The mission of the School of science is to research fundamental principles and rules governing nature. Through cutting edge research, we strive to nurture students with both technical expertise and problem solving abilities. Moreover, in order to cultivate the ability to solve various problems from a broad perspective, basic courses outside the major subjects of study are also compulsory. In addition, we are also making efforts to establish an education system suitable for current needs through e-learning and courses in scientific English taught by native English speakers.
Departments
Areas of Education / Research
Department of Mathematics

Mathematical Analysis
Mathematical Science of Information

Department of Physics

Solid State Physics
Quantum Physics

Department of Chemistry

Inorganic and Physical Chemistry
Synthetic Organic Chemistry

Department of Biology

Structural Biology
Regulatory Biology

Department of Natural and Environmental Sciences

Environmental and Analytical Chemistry
Environmental Biology
"Department of Environmental Biology and Chemistry" has been renamed to "Department of Natural and Environmental Sciences" from 2022.